The ärtɘzɘn Philosophy
Delivering luxury trinket boxes, Kashmir paper mache boxes and jewellery boxes that bring to life the wisdom and mystery of the ancient arts with simple and modern aesthetics promoting elegance and simplicity in the home place.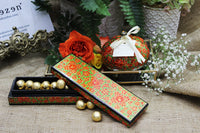 Bespoke Wedding Favours
Leave your guests with thoughtful wedding favours they can take home, so they can always remember your big day.  Wedding favours are a great way to add a personalised touch after an unforgettable celebration and a great way to show your appreciation for your guests.  Our bespoke boxes are intricately handmade and hand painted, each filled with foil wrapped milk chocolate balls and a personalised tag.  Box designs and colours can be fully customised to suit your theme and budget.
Enquire Now
Trade Enquires
If you are a retailer and would like to represent the ärtɘzɘn brand please contact our trade team where we can assist you on our full range with access to our trade prices and minimum order quantities. We also have a dedicated trade sales and customer service team who would be happy to advise you on stock, collections and more. 
Enquire Now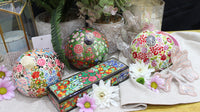 Testimonials
WEDDING FAVOUR BOXES

We found these beautiful trinket boxes at a wedding fair last year and totally fell in love, the team were amazing at helping us customise the trinkets to our wedding theme and we had different shapes for our bridesmaids and groomsmen, the team at artezen were brilliant communicating with us whilst the products were being made and for delivery and we are over the moon with how beautiful these boxes are and for a fantastic price! Thankyou so much - highly recommend! Can't wait for our bridal party to receive them!

Chloe and Tom
BLOWN AWAY!!!

The boxes look amazing in the pictures but this is even more beautiful in person. Love it and packed so well. It's already wrapped in soft black tissue and a box so ideal for a gift without any hassle. Thank you so much Artezen.

Nathalie Michaelis
EXCELLENT GIFT

I bought this for a friend as a thank you gift. She was over the moon when she received it. She said it was so beautifully packed and the colours and design were so vibrant and detailed. Delivery was also super fast. Thank you Artezen for putting a smile on her face. I will be buying more soon. Henry

Henry Baker
BEAUTIFUL TRINKET BOX

Really beautiful packed and super quick delivery. Intricately hand painted and unique - the detail is outstanding and very high quality. Very please with my purchased and will be buying more again. Thank you

Salma Peck
LOOKS AND FEELS VERY EXPENSIVE

The box arrived the next day and was extremely well packed. The box alone is absolutely perfect and ordered the larger sized as I wanted to keep my jewellery and phone inside. I've kept it on my bedside table and can't stop looking at it. It has a lovely velvet lining that protects my rings which is particularly good. It's a quality item and excellent value for money considering the amount of time and effort it would have taken to make and hand paint. It certainly looks and feels very expensive and classy. I shall certainly buy another one for my downstairs living room.

Freya Tate
ABSOLUTELY STUNNING!!!

This is the 2nd box I have now bought. I gifted my sister one and she also absolutely loved it. I would highly recommend this product.

Annabelle Wright
Our Brand
Well-thought-out:
Each of our products are a creation of love, care, skill, and diligence. Our Master Artisans are champions of their craft and use all their abilities to create beautiful items that celebrates their unique artistry. They have imagined and visualised each piece, from the beginning to end. The thoughtfulness extends to the buyer, who appreciates all the effort and skills needed to curate each piece. Typically, our products are crafted in small batches or limited-edition designs and prints.
Highest quality:
Our hand created and hand painted products are finished to the highest quality because we understand the value, time and effort needed to complete each piece. High-quality lead-free paints are applied, and multiple layers of lacquer are applied at each stage of painting to ensure the finest gloss sheen. Furthermore, each piece is hand polished to remove any surface imperfections to ensure a smooth finish to touch. ärtɘzɘn London products are tough, durable, and light in weight. Our handcrafted work is built to last.
 Each piece is unique:
Handmade products make more original and unique gifts. Unlike mass-produced products, you will find unique differences in each handmade and hand painted item we offer. No two products will ever be identical which really makes the product and the purchase incredibly special. Hundreds of individual quill strokes are meticulously applied on each product – each like a unique signature. A typical item can undertake 3-5 days to paint, larger more intricate items take weeks. Each item is a unique display of artistry and character that is to be admired by the recipient. When you buy from ärtɘzɘn London, you are buying a commitment of authenticity, and no other piece will ever be the same. It is very unlikely that you will find someone who has the same superior product, they will have variations in colour, size, materials, and quality. Other papier-mâché merchants are prevalent in the marketplace, but with ärtɘzɘn London you will have a genuine and original product. We will not compromise on our superior quality. We offer a bespoke design service, and this is primarily intended for customised requirements as wedding favours, bridesmaid gifts, luxury hotels and for many of our high-end boutique partners.
Ethical policy & preservation
With a strong ethical policy, we collaborate closely with our artisans. With the age of technology and fast paced economies, the art of papier mâché is showing signs of decline. We actively promote this unique form of art for the world to see and admire. Displaying new and innovative designs and prints, ärtɘzɘn London generates income for the local communities in Kashmir, enriching the quality of life of the local community and helping these artisans to move from income insecurity to economic self-sufficiency. We passionately believe in promoting and preserving their legacy for future generations appreciate.
Sustainability & environmental impact:
ärtɘzɘn London are purposefully focused on natural and sustainable products. At ärtɘzɘn London we care about the quality of the materials used. We do not produce our products in a large factory, industrial institution, or large production facility. We have a workshop where our artisans collaborate, each using their own specialised skillset to complete a product from start to finish. We are plastic free and our papier mâché pulp is made from recycled wastepaper, recycled cloth, and natural rice straw. All moulds are made from wood. Our single sourced products are famed for and produced only in Kashmir, India, so products pass through fewer hands than big companies, creating a smaller carbon footprint.